Copyright © 2013 All rights reserved. Terms of use | Privacy policy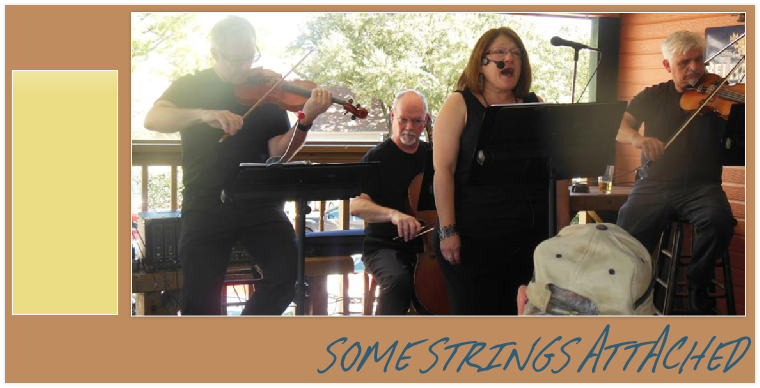 Violin, Viola, Violoncello, Voice

The oldest instrument of all, voice, takes center stage, partnered with instruments that became popular in the 1600's and all playing music written yesterday. Violin, viola, and cello form the core of Some Strings Attached. Bass and drums are added by the newest of all instruments, the computer.

New music from old instruments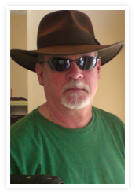 Of course, just because an instrument is old doesn't mean it must be played in an old fashioned way. Strings have a long history in rock and roll and popular music of all kinds. We just added some new ways for a string trio to take the lead over guitars and keyboards. New music with old instruments, and classic rock done in new ways makes Some Strings Attached the hottest new and old sound around.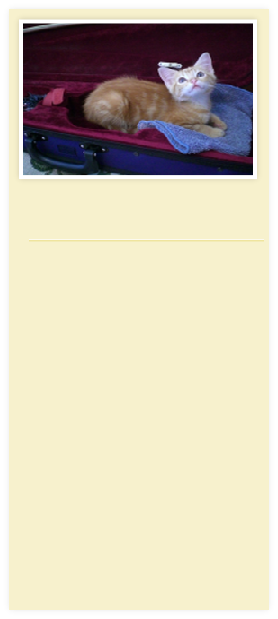 New music, written by James, sometimes with lyrics and melody by Margaret, form the musical backbone of the Some Strings Attached.

Arranged by Robert, the cover songs range from old blues ballads from the 1930s to music you hear on the radio today. But played a bit differently.
Pocket, the musical kitten, enjoys rehearsal from inside the violin case.